You are currently browsing the category archive for the 'Branding' category.
Things have been a little crazy on the Viximo front, and the Virtual Worlds 2008 Conference Series which I nobly planned to finish a week after the conference still has a couple of posts left.
This article is inspired by Virtual Goods and Branded Virtual Goods: The New Way to Revenue, a session in the Marketing and Entertainment track of Virtual Worlds 2008. The panel was moderated by Giff Constable, COO of Electric Sheep Company and featured Craig Sherman, CEO of Gaia Online; Matt Bostwick, CEO of A4R4 Media and formerly head of MTV's Virtual Worlds group; Ruben Steiger, CEO of Millions of Us; and Gene Yoon, VP of Business Affairs of Linden Lab.
A New Era for Branding
Let's face it. Brand marketers have had a tough few years. The mass exodus from offline media viewership to online media viewership has left many brand marketers scratching their heads. While call-to-action marketers have basked in the measurability and effectiveness of pay-per-click and pay-per-action search advertising, brand marketers are reeling from a one-two punch of decreased TV ad viewership (courtesy of TiVo) and the increased ubiquity of the lowly banner ad.
But a new era for branding is dawning—one that will make the gains of search advertising look paltry by comparison. Matt Bostwick explained that "branding" is what happens when a consumer takes a marketing message and makes it part of her mind, heart, and lifestyle. In the past, a key tool for transforming "marketing message" to "brand relationship" was poignant television advertising (just try watching a great Nike ad without having an emotional reaction). Certainly, online video will be an important vehicle for brand marketers, but the ultimate tool in the age of the avatar generation is branded virtual goods.
Branded virtual goods spark the cycle of brand engagement. The cycle begins when a viewer sees the brand in the low-barrier context of a virtual world. When a user chooses to interact with that brand, the relationship begins. As that relationship matures, the user becomes an online advocate for the brand and shares it with her social network. Return on investment is achieved in two stages: 1) when the user buys a virtual representation of the brand online and 2) when that relationship moves offline and the user buys physical branded product.
Is this really working? Absolutely. Over 80% of the MTV Virtual Worlds community have purchased a branded virtual good and these virtual goods have been used over 5 million times. Altogether, that has resulted in 50 million viral endorsements—not 50 million "impressions", but 50 million endorsements made from one user to another. And MTV has found that people who purchased and used branded virtual goods have a radically increased interest in purchasing that brand's physical goods.
The Vanishing Line Between Real and "Virtual"
So why is all this working? Why are people carrying online brand relationships into the real-world and vice versa? It all has to do with the avatarization of our identities. The "avatar generation" is the first generation where nearly everyone will have an avatar, where the line between people's digital lives and offline lives will become vanishingly thin.
Parents of children who use Webkinz are all too familiar with this phenonmenon—they know that the physical plush toy is almost incidental to its online manifestation. This phenomenon is amplified by the fact that people tend to play "as themselves" in online worlds. Since avatars represent their creators, the products consumed by avatars and within virtual worlds represent real world purchase intent. Stardoll leverages this by coordinating virtual goods product availability with real world product availability. If a girl likes the way her avatar looks in that new DKNY pencil skirt, she can run out and buy it from the brick-and-mortar store that day.
Some people worry that branding sullies the virtual world experience—that people don't want brands in their virtual worlds. Certainly, some worlds represent an online "utopia" for their users and these users want to escape the trappings of the real world. To some extent, that is why brands have had a hard time in Second Life. But, for many people, brands are a valuable mechanism for self-expression. The virtual worlds that attract users who express themselves through the clothes they wear, the bands they listen to, and the brands they use will find that branded virtual goods enhance the experience and make the virtual world more real.
A Choice-Based Medium
The most salient characteristic of branding in virtual worlds is that virtual worlds are a choice-based medium. If consumers choose your brand, that becomes a powerful viral distribution mechanism, but if consumer's don't choose your brand, it dies on the vine. Matt Bostwick describes this as a swarm of "brand bots". Brand marketers send these automatons into an array of virtual worlds. In some worlds, these brand bots multiply and evolve as user's shepherd them through the social fabric of the world, and in other worlds they go neglected and die. Many factors determine the fate of these brand bots including the nature of the virtual world, the receptivity of that world's audience, and the resonance of the brand message. Its up to brand marketers to chose the right worlds for their brands, find the most receptive target demographic, and craft a winning brand experience.
Marketing Strategy for Virtual Goods
There is a tendency to think of virtual goods campaigns as a form of advertising or media buy. In general, media buys are fire-and-forget, but virtual goods campaigns are very different. The "build it and they will come" strategy just doesn't work, and early players figured that out quickly. Kicking off a virtual goods campaign needs to be thought of like any other product launch—its the beginning, not the end. Just as a solid marketing strategy is necessary to win with a product launch, it is the bedrock of a successful virtual goods campaign.
"Interactive" Product Placement
As television advertising viewership has evaporated, brand marketers have found an oasis in product placement. While many forms of traditional advertising are declining, PQMedia, a consultancy focused on alternate forms of advertising, predicts that product placement spending will rise from $3.1B in 2006 to $5.6B in 2010.
In many ways, virtual goods campaigns are really a form of product placement woven into the dynamics of virtual worlds. What's the key differentiator between traditional product placement and virtual goods campaigns? Interactivity.
Since virtual worlds are a choice-based medium, product placement in virtual worlds is subject to the swarm effect I discussed earlier—the products are given over to consumers, instead of television producers, to place, position, and promote.
The tactics that make a successful product placement campaign work in virtual worlds too:
Carefully select the contexts in which your product appears—the contexts should be relevant and complementary
Products should be identifiably, but subtly, branded—big and loud logos are too heavy handed
Know that you are giving up some control and be aware of the risks and rewards
Make it easy for the consumer to take action (e.g., TV placements are often followed by informational ad spots to help close the sale, Stardoll makes it easy to buy the clothes featured online, etc.)
One of the tactics that is unique to virtual worlds is that virtual goods can reinforce brand messages through the mechanics of that virtual world. Craig Sherman from Gaia Online discussed how Nike is integrated into their world. A key brand message for Nike is that they help you achieve better athletic performance. How do you reinforce that in a virtual world? Well, when a consumer buys a pair of Nikes in Gaia Online, they enable that person's avatar to run faster. As with real-world product placement, virtual goods campaigns aren't just about slapping a logo on a visual asset.
Theatrical Experiences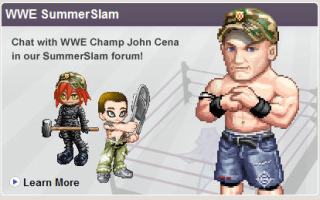 Craig Sherman and Ruben Steiger discussed the strategy for integrating brands and branded virtual goods into Gaia Online. The true power of the virtual world medium is unleashed when operators and brands work together to create theatrical experiences that permeate every facet of the virtual world. Certainly, one of the masters of offline theatrical experiences is the WWE. Ruben discussed how Millions of Us, Gaia Online, and the WWE worked together to pull that theatrical flair into Gaia.
They started the campaign with an event in Gaia's forums. John Cena, one of the WWE's main protagonists, was an active participant in the forum. Like fans at an offline WWE event, various people started heckling John in the forums. When the forums got to a heated pitch, one of the Gaia users was revealed as John's nemesis and that kicked off the rivalry at WWE SummerSlam. The campaign was a major success (it has been honored with a couple rewards) and virtual goods related to the WWE became highly sought after in the Gaia community.
Ruben explained that virtual goods allow brand marketers to explore entirely new areas. Virtual goods can act as the medium for stories or brand messages, can evolve over time, can unlock capabilities such as being able to run faster, and can make users an integral part of the brand story.
Channel Strategy
Channel strategy is one of the four pillars of traditional marketing strategy. It turns out that channel strategy is just as important for virtual goods campaigns.
The first step in defining a successful channel strategy is to select the appropriate online services and virtual worlds for a given brand. As with offline channel strategy, one of the callenges of an online channel strategy is dealing with lack of control if the channel is not owned and operated by the brand. Many brands are addressing this challenge by developing their own virtual worlds. For example, Mattel built its own channel for its Barbie brand with Barbie Girls and Disney is planning to invest up to $100 million in 10 different virtual worlds for its brands.
As in the real world, it's not always optimal or practical for product brands to vertically integrate into distribution. This will become increasingly true as virtual world development costs follow the same path as video game development costs (it currently costs about $5 million to implement a basic virtual world and this cost will increase to $20-$50 million over the next 5-7 years). Matt Bostwick hit the point when he said: "You don't need to build New York City in order to sell Coke." Even in the cases where a brand decides to implement its own virtual worlds, valuable opportunities are missed if that brand focuses exclusively on those worlds.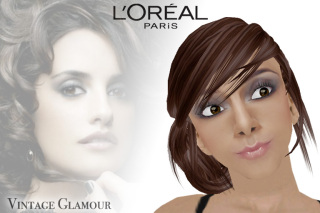 Once a brand has selected the appropriate virtual worlds for its products, then it needs to devise a distribution strategy for reaching consumers in those worlds. Oftentimes, the operator of the virtual world will be instrumental in defining that distribution strategy. However, in more free-form worlds such as Second Life, the brand may need to implement its own promotion and distribution plan.
Brands would be wise to follow the example of the L'Oreal campaign in Second Life which was run by K Zero. Typically, when brands have implemented campaigns in Second Life, they create their own venue and attempt to drive traffic to that venue (this is the analog of a brand running its own brick-and-mortar retail store). Instead, K Zero and L'Oreal worked with successful virtual entrepreneurs to promote and distribute L'Oreal's virtual products through their existing distribution networks. What L'Oreal lost in "brand control", they more than made up for in increased awareness and distribution.
The best practices for channel strategy carry over into the online world: success is achieved by selecting a mix of appropriate channels and by carefully managing, motivating, and monitoring those channels. Channel decisions are never easy, but the right ones separate success from failure.
Just the Beginning
We really are at the dawn of a new era for brands. Opportunities abound, but so do risks. Brands will have to navigate a permanent shift to increased consumer choice and control. The music industry faced a similar inflection point a few years ago. Consumer brands are already proving that they are much more savvy than the big record labels, and they'll reap the corresponding rewards.